24/7 RESEARCH HOTLINE 813.394.3025

Acute Care Research Vision Statement
Our acute care research program leverages the 24/7 operational model of emergency medicine in order to raise the quality and capacity of clinical research to that of our management of acute patient presentations such as STEMI, Stroke and trauma care while also creating a culture of research for our investigators and patients. We strive to make the same high quality research studies available to patients at 3am on Saturday that are available at 3pm on Monday.
If a patient would not settle for a lower standard of care for treatment for a medical condition, they should also not settle for decreased chance to benefit from clinical research. Our model increases enrollment volumes, expands capacity for new studies, supports investigator initiated projects, provides transparent pricing structures for services, and allows tracking of revenue and expenses for reporting purposes while also ensuring sustainability over time for investigators and research support staff by minimizing the impact of screening, enrollment and patient follow up on the research team through the synchronization of available research resources to the patient through the shift approach. Our clinical research vision is complemented by work in quality improvement and health care services. For both patient and investigator, we ensure that the intellectual resources and talent of the University of South Florida Morsani College of Medicine and the high quality patient environment of Tampa General Hospital work seamlessly together to provide the latest diagnostic and treatment strategies available.
Acute Care Research Mission
Our mission is to operate a 24/7 acute care research program with the capacity and capability to provide a drug, device or procedure at any time point. The success and expansion of acute care research studies relies on the demand for 24/7 quality via a shift work model that utilizes around the clock research assistants, research coordinators, and multiple investigators present in the ED. Furthermore, we leverage our EMR to provide robust patient capture support, minimizing the impact on clinically active staff to identify patients. We work to integrate our operational approach into the existing ED workflow in a way that does not burden busy staff or require research investigators and coordinators to be regularly queried on off days outside the hospital. We increase capacity to accept and initiate new studies by having each research team member cross cover multiple. The presence of research staff and investigators in the hospital 24/7 allows us to work across service lines to screen, enroll and provide treatment to patients under research protocol in and out of the ED during a hospital admission.
The Division of Emergency Medicine Research Section (USF EM Research) is integrated closely with the Tampa General Hospital Office of Clinical Research (TGHOCR). TGHOCR provides infrastructure for the Acute Care research group while the USF EM Research Team serve as the hub of Acute Care studies via the work of our research assistants, students, and residents.
Social EM and Emergency Medicine Research
Healthcare inequities and disparities are reproduced over and over again secondary to the current structure of healthcare delivery and our broader society. Our organization is specifically equipped to tackle social determinants of healthcare by addressing historical and ongoing population processes, as well as individual intersectionality, that lead to unjust differential outcomes. While many programs utilize a public health frame, we opt for a social science approach that considers qualitative and quantitative data down to the level of the patient encounter and up to the level of culture as well as macroeconomic and other social forces.
Our social science approach leverages a unique relationship with the Department of Anthropology at the University of South Florida. We have two medical anthropologists fully dedicated to our work on staff and partner with many others in the Department. Through our work with patients and other clinical process stakeholders, we develop ethnographically informed care models that improve healthcare design and delivery.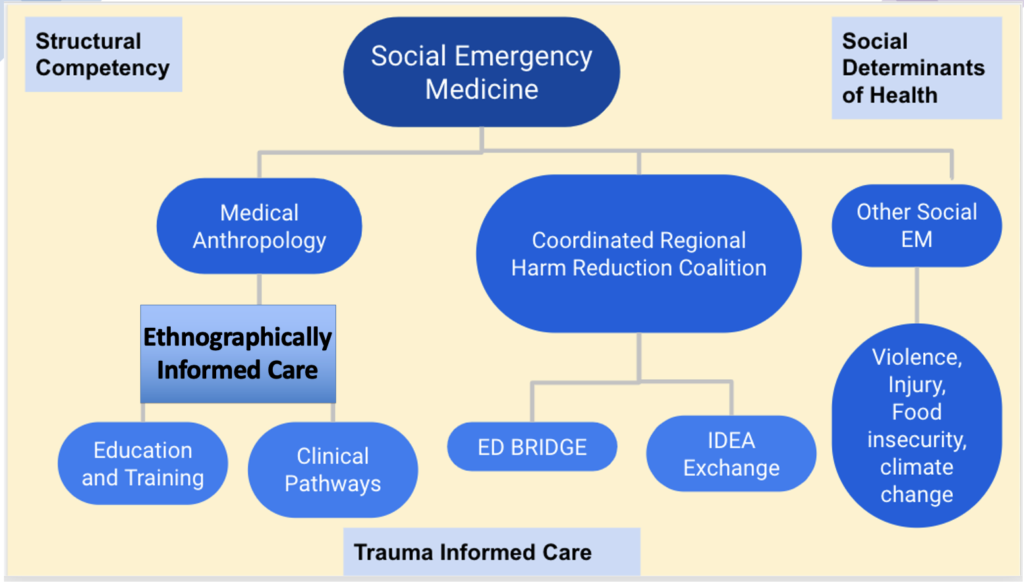 Acute Care Research Funding
Funding for our initiatives is derived from a mix of private and public dollars. We have participated in the FOCUS program since May 2016 in an ongoing effort to improve ED based HIV and HCV screening and linkage to care that has led to a full coordinated harm reduction continuum. In addition, federal funding through the Ending the HIV Epidemic (EHE) has helped to strengthen our HIV linkage and treatment efforts in hard to reach populations.
We are a member of a NIDA node and participation in CTN-0099, a clinical trial examining buprenorphine delivery and opioid use disorder treatment structure, has also improved our care of participants and patients with substance use. At any given time, we also receive funding to conduct 3-5 multi-site clinical trials. During the COVID pandemic, we were an NIH funded ACTIV-4 and ACTIV-6 site as well.
Clinical Research Trials and other ongoing Scholarly Activity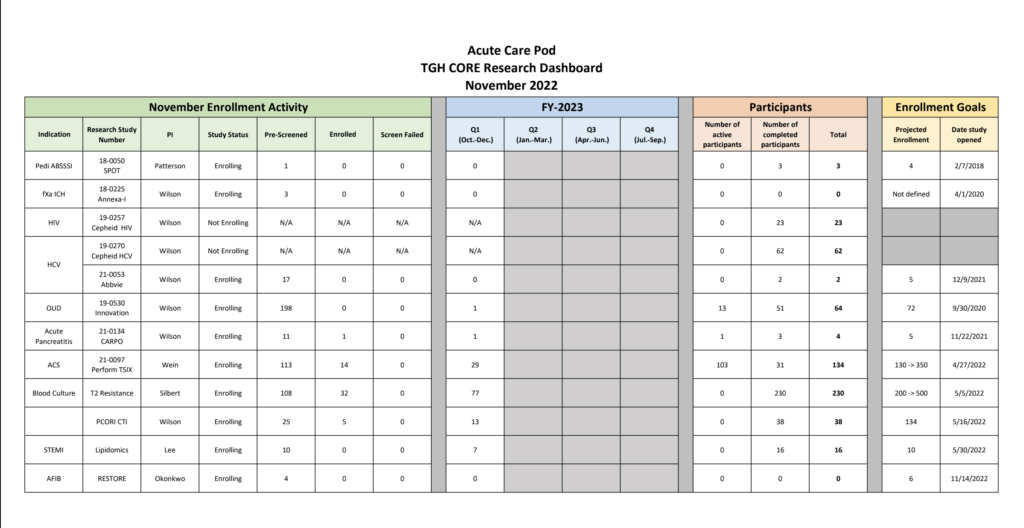 | | | | | |
| --- | --- | --- | --- | --- |
| STUDY | PROTOCOL | Study | PI | STATUS |
| Gastroenteritis | 19-0297 | Film Array | Silbert | Completed |
| Peds ABSSSI | 18-0050 | SPOT | Patterson | Enrolling |
| FXa ICH | 18-0225 | ANNEXA-I | Wilson | Enrolling |
| FXA Surgery | 20-0007 | ANNEXA-S | Wilson | Suspended Enrollment |
| Covid Registry | 20-0123 | Covid | Wilson | Enrolling |
| Effector/Covid | 20-0170 | Covid | Okonkwo | Suspended Enrollment |
| Cepheid HIV | 19-0257 | HIV PCR | Wilson | Enrolling |
| Cepheid HCV | 19-0270 | HCV PCR | Wilson | Enrolling |
| Opioid Use Disorder/Mat | 19-0530 | NIDA/NIH | Wilson | Enrolling |
| Non-fatal GSW | 18-0119 | Non-Fatal GSW | Wilson | Enrolling |
| ACTIV-6 | 21-0037 | NIH | Wilson | Enrolling |
| Acute Coronary Syndrome/Dx | 21-0007 | Troponin | Wein | Reg |
| Acute Coronary Syndrome/Dx | 21-0097 | Covance Trop | Wein | Reg |
| Acute Pancreatitis | 21-0134 | CARPO | Wilson | Enrolling |
| FXA ICH Tranfsers IIS | Pending | Alexion | Wilson | IRB Approved; Sponsor Approved; Reg |
| FXA Time To Treatment | Pending | None | Wilson | Need PCC Institution Data |
| FXA ANNEXA Trauma | Pending | None | Wilson | Need IRB; Data available |
| Sickle Cell Disease Bridge Tx IIS | 20-0412 | ACELRX | Wilson | At wIRB; sponsor approved; reg done |
| Health Disparity/Navigator | PCORI | PCORI | Wilson | PCORI approved; reg with IT; IRB approved |
| Oral Proteinase Inhibitor Covid | C-46-1002 | Pfizer;Covid Low Risk | Kim/Wilson | Reg? |
| Atrial Fibrillation in ED | 21-0120 | Rapid SR/Restore-1 | Okonkwo | Contracting |
| Focused TEE In Critically Ill Patients | STUDY002708 | None | Derr | IRB |
| False Positive HIV | Pro00035134 | Gilead/FOCUS | Wilson | Enrolling |
| Retrospective Analysis of a Low Risk ED Arrhythmia Referral Program | STUDY003359 | Ziopatch | Okonkwo | IRB/Startup |
| Medication Errors in EMS | STUDY002923 | Pinellas EMS | Jameson | Enrolling? |
| rTEG in GI Bleed | STUDY002830 | TEAMHealth | Okonkwo | Enrolling |
| Family and Patient Physician Interactions | Pro00038645 | None/Anthro | Wilson | Enrolling |
| Uncontrolled Diabetes | Pro00038647 | None/Anthro | Wilson | Enrolling |
| Female Patient Experiences of CHD | Pro00038693 | None/Anthro | Wilson | Enrolling |
| Co-Locating MOUD and DAA | Study002720 | None/Anthro | Wilson | Enrolling |
| EMS Naloxone Preparedness | Study000325 | None/Anthro | Wilson | Enrolling |
| ED Radiation Exposure | Study000122 | None/ED RN | Wilson | Ready |
| Mental Health/HIV/Lost to Care | Study001006 | FOCUS/Anthro | Wilson | Enrolling |
| HCV Equivocal Analysis | Study003303 | FOCUS | Wilson | Ready |
| Vaccine Acceptance | Study002113 | None | Wilson | Data Collected; Needs Analysis |
| Burnout and Resilience in Medicine | Study001862 | None | Wilson | Enrolling/Ongoing |
| Simulation VR Training | Pending | Collaboration with Immertech/CAMLS | McKenna | Grant Submitted to NSF |
| Acute HCV | 21-0053 | ABBVIE | Wilson | IRB, Reg |
| HIV/HCV ED Screening/Linkage | NA | Gilead/FOCUS | Wilson | NA |
| HIV/HCV ED Screening/Linkage | NA | Ryan White EHE | Wilson | NA |
| IDEA Syringe Services Program | NA | Gilead/FOCUS | Wilson | NA |
| ASCVD Study | CDA | AMGEN | Wilson | Reg |
UPDATED FEBRUARY 1, 2022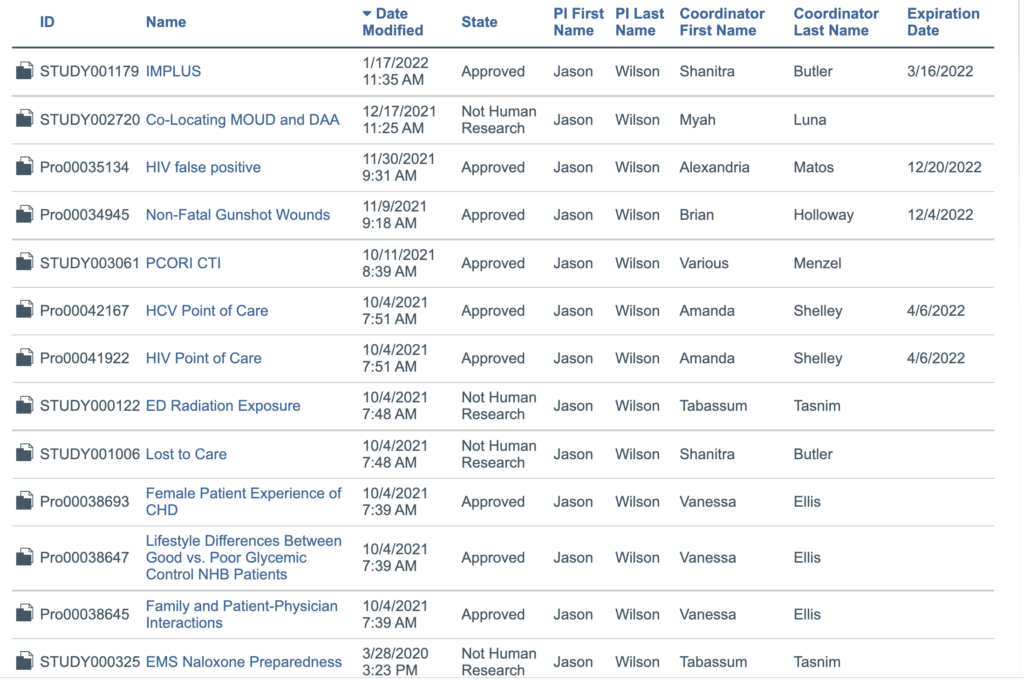 Important Links
USF/TGH/TEAMHealth Acute Care Research Staff
Research Director, Emergency Medicine: Jason Wilson, MD
Acute Care Research Team Supervisor, Clinical Research RN: Ashley Bader, RN, BSN
Acute Care Research Team: Clinical Research RN: Ashley Barnes, RN, BSN

Director of Social Emergency Medicine Programs: Heather Henderson, MA, PhDc

Medical Anthropology Post-Doctoral Fellow 2021-2022: Bernice McCoy, PhD Associate Director of Social Emergency Medicine Programs: Bernice McCoy, PhD
Research Chief 2021-2022: Jared Senvisky, MD
Research Chief 2020-2021: Johnathan Elkes, MD
TGH CORE OCR, Acute Care Research Assistant: Patricia Sanchez
Acute Care Research Team, Research Assistant: Carlos Rodriguez-Cosme, Heather Hare, Tashkin Tokaria, Shahin Shanvas

USF EM Residency Research Section
The USF Emergency Medicine Research Section is responsible for organizing and creating a longitudinal research curriculum for the residency program and tracking the publications and presentations by residents and faculty for submission yearly to the RRC. The curriculum includes education in the IRB and study creation process, evidence based medicine and statistical concepts, as well as a journal club that meets eight times per year along with a PGY-3 clinically appraised topic presentation that often results in a publication for the resident.
The emergency medicine research section also acts as the hub for ED based acute care inpatient hospital studies. Each year, we initiate 10 new sponsored clinical studies while maintaining 4-5 ongoing clinical studies in the ED. In addition, we also work with other service lines to identify and enroll patients into time sensitive studies. research department. Patients are identified for studies using research assistants that work in the emergency department 24 hours a day, as well as clinical decision support tools in the electronic medical record. Working closely with Tampa General Hospital Office for Clinical Research, patients are followed throughout their hospital course and during subsequent visits at our onsite outpatient clinic. We also have 1-2 investigator initiated studies at a time – often created by residents with input and assistance from our core and clinical faculty.
Residents become involved in research and the research curriculum beginning their intern year but formerly rotate with the research section during their PGY-3 year. During that month, residents act in an administrative role as a liaison between research staff, student volunteers, and research assistants while also providing clinical guidance and assessment of research patients when appropriate for clinical studies.
In addition, our team is able to leverage the research infrastructure to support investigator initiated projects as well as resident, medical student, graduate student as well as honors college education at the University.
The Emergency Medicine Research Section offers a one month third or fourth year medical student elective rotation (time period can be modified as needed) as well as a summer program for select undergraduate students, graduate students and rising second year medical students. At times, we are able to provide funding for summer students. (MDR 8710)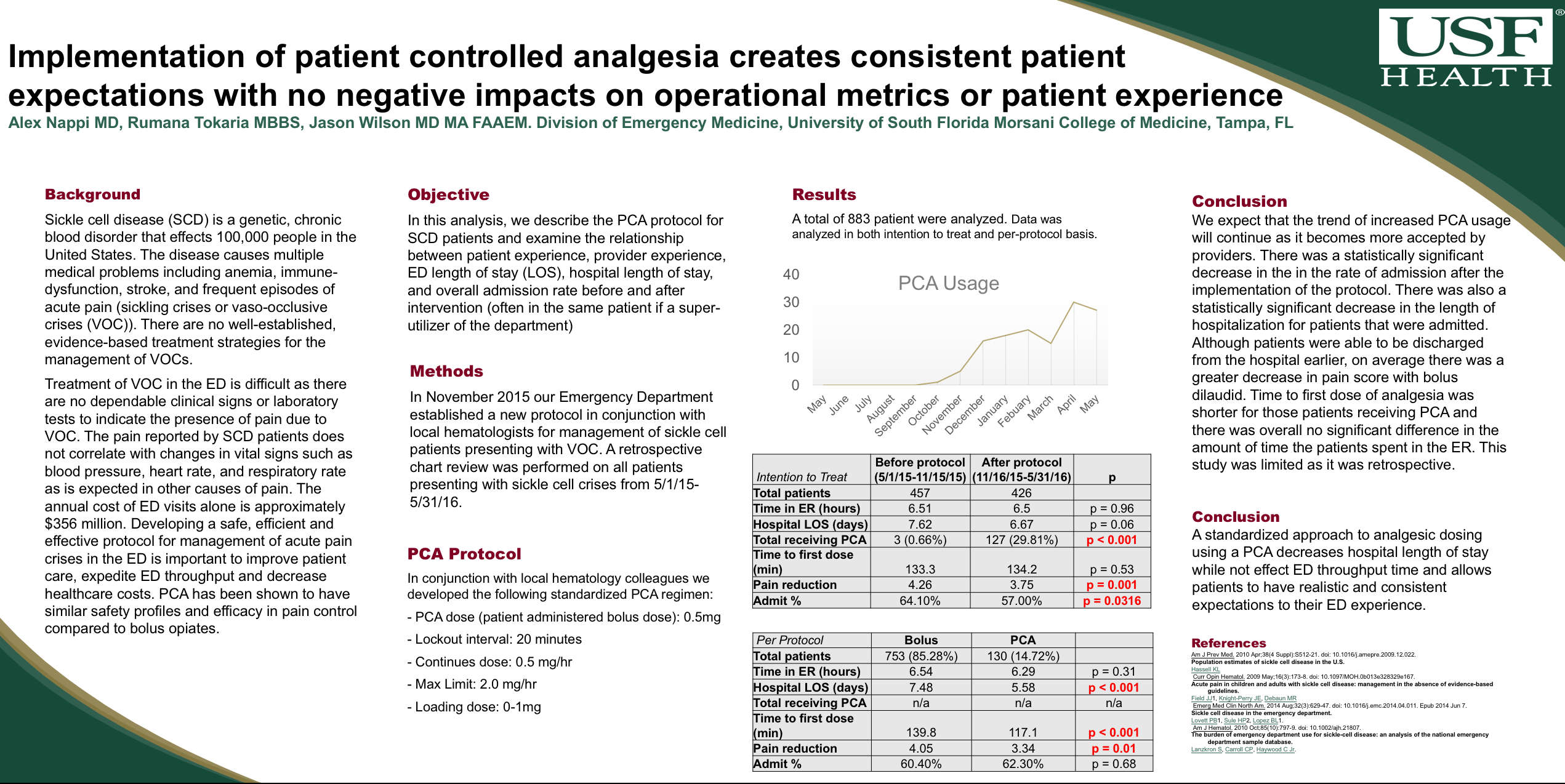 Resident Scholarly Activity Requirement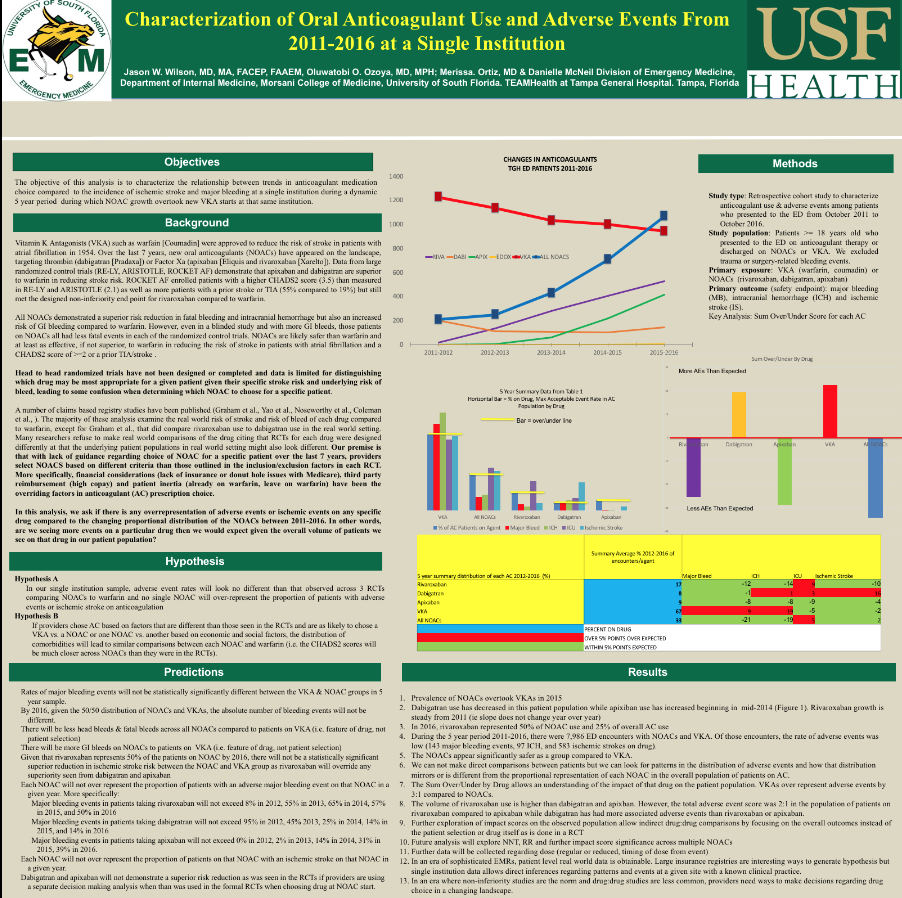 Scholarly activity is required by the ACGME as part of emergency medicine training. Minimum requirements exist to set a baseline. The USF EM curriculum is designed to ensure that all residents excel well above the minimum requirements in all aspects of training. In order to meet the resident scholarly activity requirement, a resident must contribute to body of knowledge in an original creative manner while meeting longitudinal scholarly milestones throughout the entire training period.
Scholarly activity at USF EM should not be thought of as a single project or a one-month rotation. Instead, scholarly activity is practice that produces a lifelong learner with the toolkit to contribute knowledge to the field of emergency medicine. Having said that, there are specific tangible requirements to mark progress that are found below.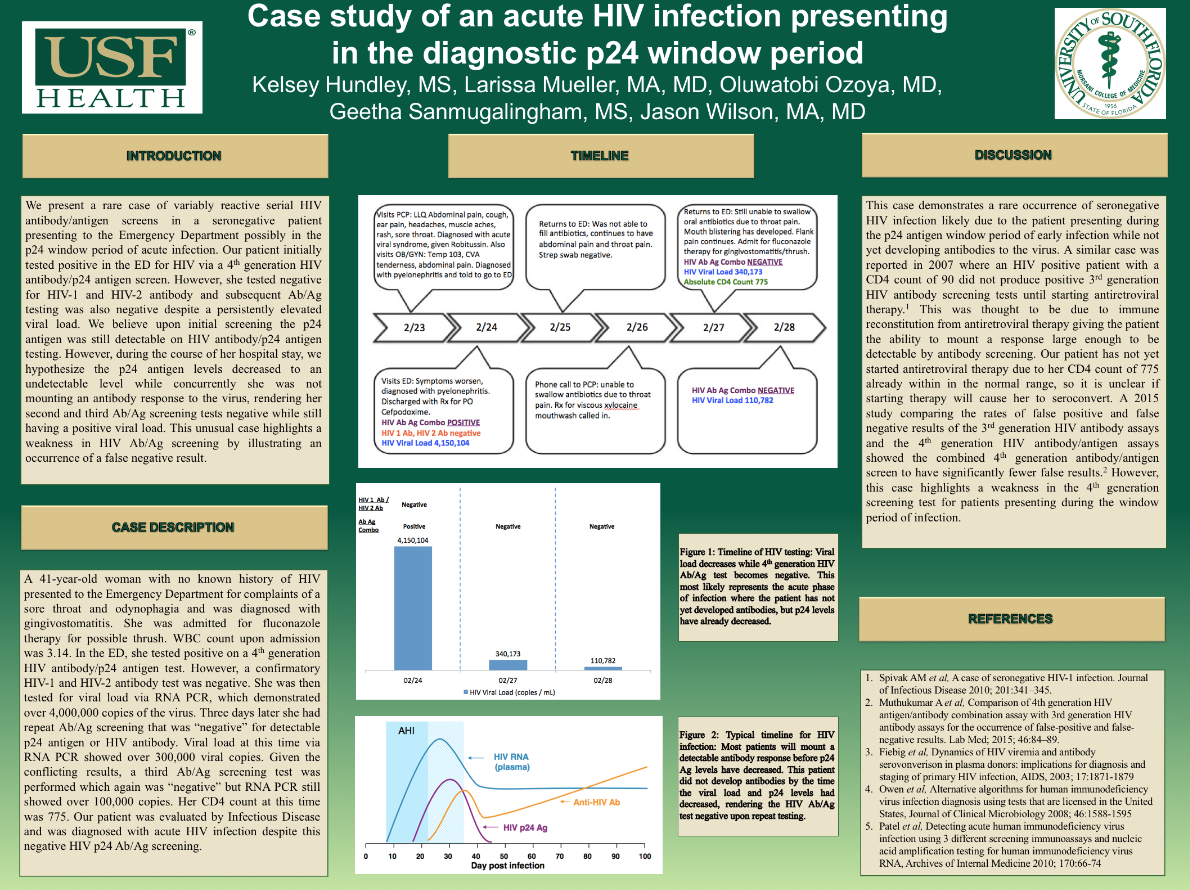 Beginning in 2017, we implemented a longitudinal research experience into the curriculum that ensures that all residents have the opportunity to participate in original scholarly activity. During the PGY-1 year, residents are paired with staff research assistants and more experienced learners and faculty to develop projects. These sessions occur both during grand rounds time periods and outside of those scheduled time periods as needed.
To fulfill the USF EM and ACGME requirements for scholarly activity, each resident will design an original research hypothesis in collaboration with a faculty member. The project can utilize retrospective data obtained from the electronic medical record after appropriate permissions. Alternatively, residents with original clinical research questions or hypotheses that necessitate an intervention can conduct prospective studies if the process is initiated in sufficient time during training. Most prospective projects, especially those with a patient intervention, will need to be proposed by the end of the PGY-1 year.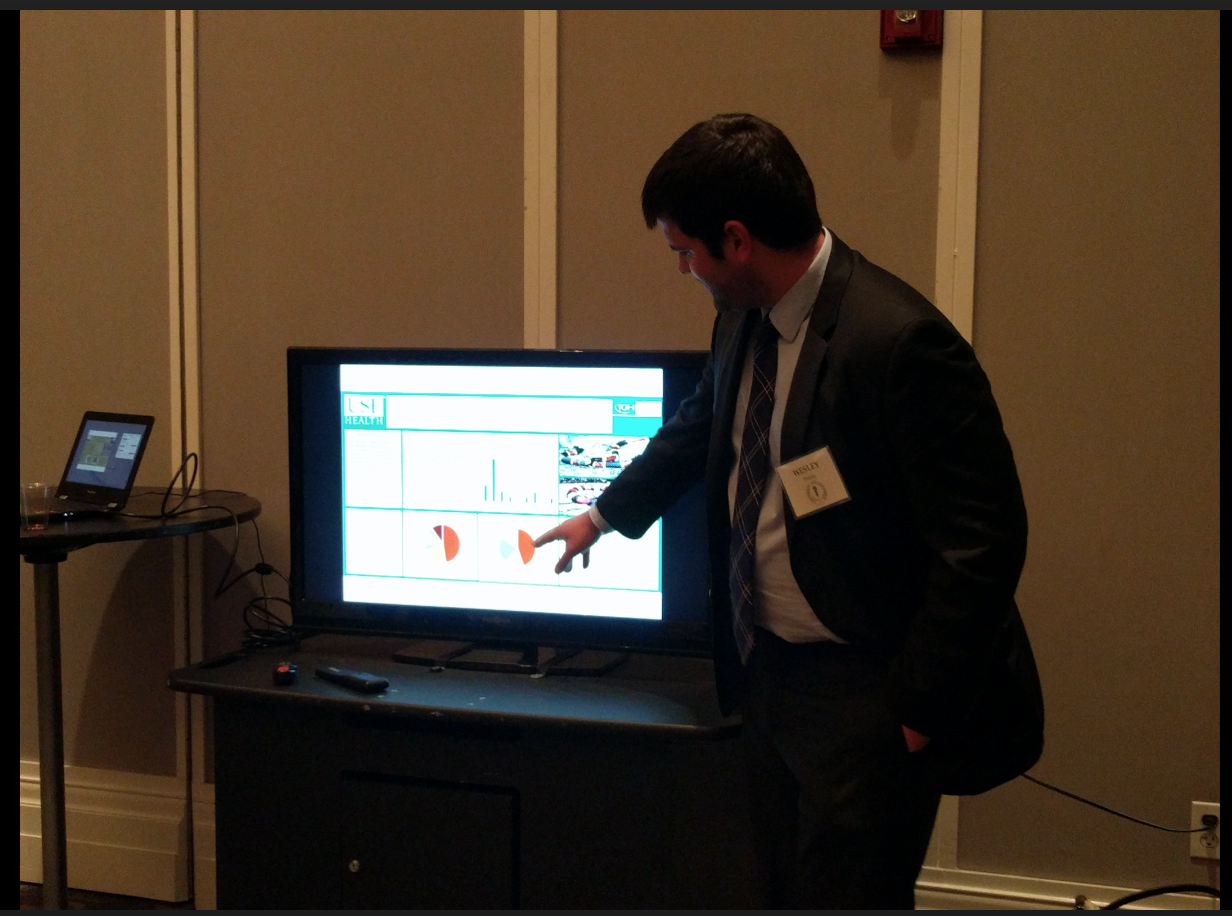 In addition, the resident spends one month on the Research Rotation, usually during the PGY-3 year. This month provides an opportunity to both complete outstanding projects as well as to serve in an administrative capacity within the research division. During the research month, the resident should plan to attend scheduled research division meetings, site initiation/monitoring and closeout visits, as well as IRB and feasibility meetings. During the rotation, the rotating research resident should serve as an educational liaison to the research assistants that work every day in the emergency department to identify appropriate research patients, as well as to any students rotating with the research division. Residents will complete 4 clinical shifts and 16 hours of teaching shifts during this month as well.
Each year, every resident will also lead discussion of a journal article and, usually during the PGY-3 year, will also present a critically appraised topic (CAT) presentation that should not be a rehash of others work but, instead, an original review that should be publishable in EMPulse, EM Resident or another similar venue.
USF EM Minimum Expectations To Meet
Scholarly Activity Requirement Over 3 Year Period
Lead discussion of 3 journal articles utilizing the Journal Club Worksheet
Create and present an approved CAT
Maintain Human Subjects Research Certification via CITI Training


Attend a Medical IRB Meeting at USF
Attend 3 Research Project Grand Rounds Sessions
Create, complete, and present/publish an approved scholarly project (must be a creative contribution to the science of emergency medicine, not an isolated case review or presentation of non-original work)
Work 72 hours of Clinical Shifts During Research Month
Complete designated Teaching Hours during research month
Meet yearly with Research Director. Scholarly Activity Project should be approved by mid- PGY-2 year
Attend Friday morning undergraduate course with Dr. Wilson during PGY-3 Research Month
Employment Opportunities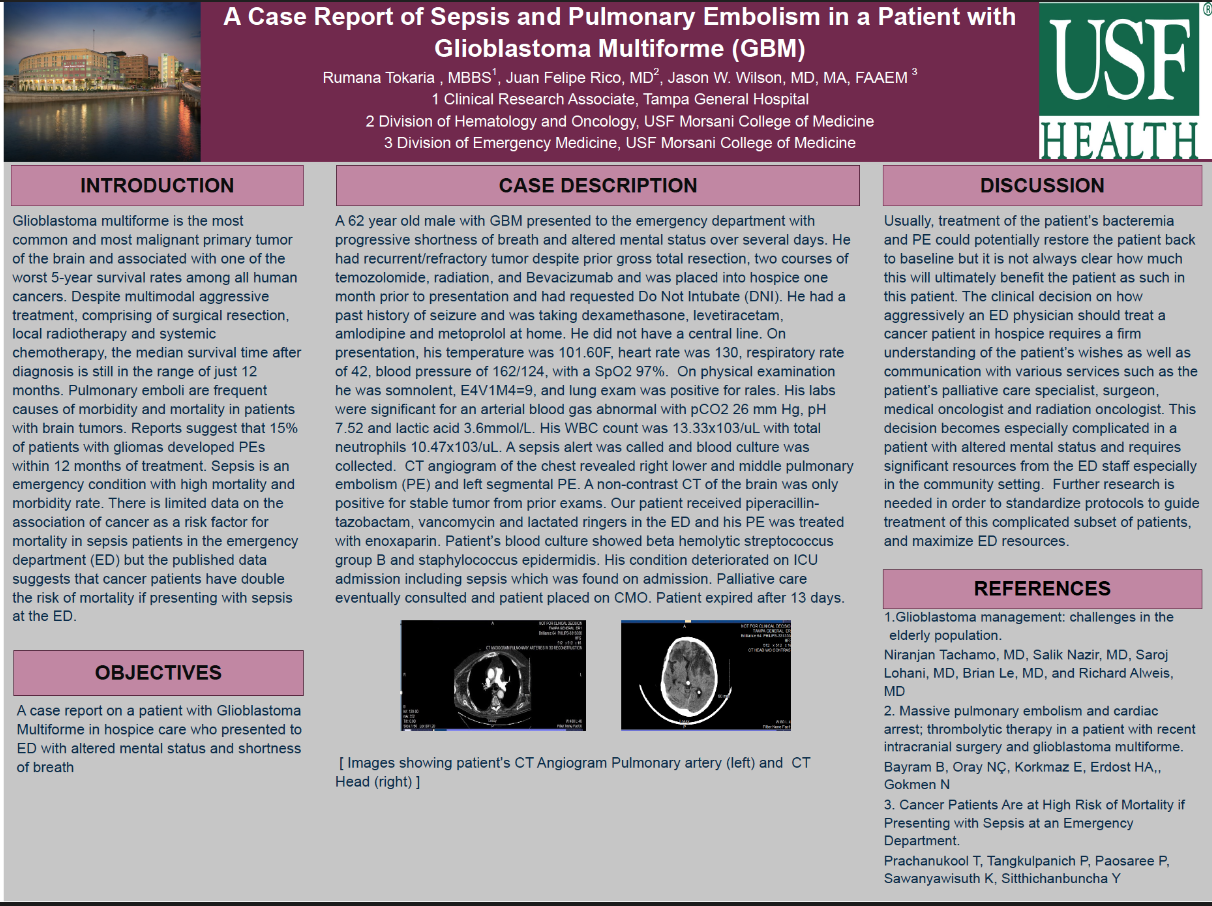 TGH RN Research Coordinator
The research coordinator position is a full time position offered through Tampa General Hospital. To check for open positions and to apply, please visit the TGH Job Portal.
The Research Coordinator provides professional clinical nursing care under general supervision to study participants, as required under assigned research protocols; follows established policies, procedures and professional guidelines in planning, implementing, documenting and reporting study requirements; functions as a research coordinator in the Clinical Research Unit and the hospital; responsible for performing job duties in accordance with mission, vision and values of Tampa General Hospital.
Required Skills
Graduate of an accredited School of Nursing; Florida RN license; BSN required; A minimum of 2 years of bedside nursing required; Certification as a Certified Research Associate or completion within 3 years of assuming the role.
Research Assistant (RA)
Our research assistant positions are offered as independent contractor opportunities on an as needed basis. Research assistants are involved in support roles for both industry-sponsored and investigator initiated studies. RAs work within the ED and use the electronic medical record to identify patients as potential study enrollees. The RA reviews inclusion and exclusion criteria for all studies and acts as a liaison between clinical staff and research staff to facilitate patient screening and enrollment. The RA also works with residents, medical students and attending physicians to support investigator initiated studies through data collection, assistance with data analysis, as well as assistance with abstract, poster, and manuscript creation.
To apply for an RA position, please email [email protected]
The credentialing application should be uploaded to the RedCap application site when completed along with all required documents.
Research Assistant
The Research Assistant Position is an independent contractor position offered on an as available basis. The position is ideal for pre-medical students that have completed their undergraduate training and are in a gap year. Ideal candidates will have some experience in clinical settings (EMT, Paramedic, completion of Patient-Physician Interaction Course, prior RN, Scribe, etc). If interested in this position, please visit the TGH job portal site.
Medical Student and Undergraduate Research
The Division of Emergency Medicine supports undergraduate medical education as well as premedical student education. Medical students have a number of formal opportunities for engagement in emergency medicine and acute care research through three mechanisms. The Emergency Medicine Interest Group helps to coordinate research opportunities for medical students through communication with the Emergency Medicine Research Chief and the Emergency Medicine Graduate Student Assistant.
The primary pathway for undergraduate medical student involvement is through the rolling research seminar education program led by Dr. Wilson. Students may enter the cohort in the Fall, Spring or Summer. The cohort meets each Friday. Research revenue from PI funds in the division of EM support a graduate student assistant who coordinates human subjects research training, hospital credentialing, IRB and regulatory issues and meeting cadence. The Friday meetings allow time for students to discover new projects and present work on ongoing projects. The Research Director is present each week to educate and facilitate work. Other faculty/PIs join as needed.
The summer cohort includes students between their first and second year of medical students at Morsani taking part in the RISE or SELECT program. Those students have funding to participate in research throughout the summer. The summer program is the capstone program. Most students submit abstracts to the FCEP annual conference, Symposium by the Sea (abstracts due in July, Presentations in August), providing undergraduate medical students significant opportunity to learn research methods and theory directly from a faculty member and present at a statewide EM conference.
The second pathway for involvement is through participation in the MS3 or MS4 research elective. The MS3 elective is only two weeks long. The MS4 elective is one month. Students who take part in earlier fall/spring/summer research cohorts are encouraged to participate in the elective to complete earlier research work or draft abstracts, presentations and manuscripts.
Dr. Wilson has also taught a premedical course at the University of South Florida (paused for Covid and not yet restarted) on patient-centered research as well as a health science research course. Many current Morsani students took that course and have remain engaged in research. This undergraduate course is through the Department of Anthropology and Honors College, opening up research opportunities for both premedical undergraduate but also social science undergraduate students and facilitating interdisciplinary research teams.
In addition, the Division of EM supports a PhD student, and two PhD staff in anthropology within the Social EM section through research revenue and external awards/grants.
Wilson/ACUTE CARE RESEARCH TEAM CURRENT STUDIES UPDATED FEBRUARY 2022
(The studies below either have Jason Wilson as PI, site PI, or involved in day to operations and design of the trials through management of the research team. For a more complete listing of all USF EMERGENCY MEDICINE RESEARCH, follow the link)
ACTIV-6 Repurposed drugs for Covid-19. NIH. Site PI: Wilson
Carpo. A study of Auxora in Patients with Acute Pancreatitis and Accompanying SIRS
ACTIV-4b Apixaban vs. Aspirin Vs. Placebo for Patients Discharged from ED with COVID to prevent VTE. Enrolling 12/08/20. NIH. PI/Co-Is: WILSON/T. VASEY, Coordinator = Ballans. Completed.
ACTIV-4 Acute: Apixaban vs. Aspirin vs. Placebo for patients admitted to the hospital with COVID to prevent VTE. Start up 12/11/20. NIH. PI/Co-Is: WILSON/T. Vasey. Completed.
NIDA CTN-0099 ED INNOVATION: Usual Care Oral Buprenorphine-Naloxone pathway compared to investigational IM Buprenorphine-Naloxone pathway. Enrolling 12/20. NIDA/NIH. PI/CO-Is: WILSON/Henderson/McGeachy Coordinator: Sanchez. Ongoing February 2022.
Covid-19 Registry. Approved by wIRB.
MOUD Pathway Development: ED based medically assisted therapy/medical for opioid use disorder pathway for patients in opioid withdrawal. Wilson/Henderson. Enrolling. Partial Sponsorship through NIDA CTN-0099 and FOCUS. Ongoing February 2022.
STIGMA OF OPIOID ADDICTION. Heather Henderson. Anthropology, PhD Thesis. In Progress 12/20
Co-Location of HCV/MOUD Care: linking chronic HCV in young adults to opioid use disorder pathways at an FQHC located at a substance use disorder partner treatment clinic. Ongoing February 2022.
ANNEXA-I. Annexa vs. standard of care for ICH/Reversal of life threatening bleeds in patients on Factor Xa inhibitors. PI = Wilson, Coordinator = Ballans. Enrolling 12/20. Alexion/Portola. Ongoing February 2022.
ANNEXA-S: Annexa for urgent surgeries and procedures. Alexion/Portola. Sponsor Hold 12/20. Sponsor Pause 12/21.
FilmArray 19-0297: diagnostic testing for gastroenteritis patients with diarrhea in the ED. Enrolling 12/20. Silbert. Completed February 2022.
SPOT 18-0050. Dalbavancin for pediatric population with skin and soft tissue infections. Abbvie Patterson. Ongoing February 2022.
RBA Saliva Spectroscopy Testing In Covid Patients. 20-0082. Oxner. Kaliga. Completed June 2020.
RBA Palm/Blood Spectroscopy Testing in ED Patients. 19-0013. Wilson. Kaliga. Sponsor Pause May 2020
Propel Zotatifin for Covid: 20-0170. eFFECTOR. Okonkwo. Sponsor Pause February 2022.
Cepheid HIV and Cepheid HCV. Rapid Turn around Time (TAT) RNA testing. Ongoing, awaiting cartridges February 2022.
HIV EquivocalsA: Differentiating between HIV Acute Positive vs. False Positive via repeat laboratory testing of false positive patients. FOCUS Sponsored/Investigator Initiated. Continuing Review USF IRB Pro00035134. Wilson/Henderson/McCoy/Lewis. Ongoing February 2022.
HIV Equivocals B: Clinical Presentation characteristics of acute vs. false positive. Continuous enrollment of all equivocal. FOCUS Sponsored/Investigator Initiated. Continuing Review USF IRB Pro00035134. Wilson/Henderson/McCoy/Lewis. Ongoing February 2022.
Implementation of PrEP in the ED. Lit Review/Protocol Design. Wilson/Henderson/McCoy.
Non-Fatal GSWs
Prehospital Restraints. Semmons/Nassar. Completed/Manuscript creation? 12/20.
Magnesium in Atrial Fibrillation – Okonkwo/Protocol Design?
PE/sPESI. Wilson/Hoida and Fhon – completed analysis. 2 presentations and development of TGH DVT/PE pathway

2017 SAEM PE Poster Presentation (below and at link)

IMPLUS. LOW BACK PAIN. Paused for Covid. Wilson. IRB Approved. No initiation as of February 2022.
TEE IN RESUSCITATION. Derr/Mendoza. IRB Approved. Initiated but paused for Covid as of 12/20. Pause February 2022.
CYRACOM INTEPRETER. PHONE VS. VIDEO. Christian Jeanot PGY-3 and Seiichi Villalona, Anthropology. Completed with manuscript publication. 2018
HALLWAY PATIENTS/PRESS GANEY. Seiichi Villalona. Completed with poster presentation. 2019
LACTATE IN ADDITION TO MEWS. Louis Leon. Honors Thesis. Completed with SAEM Oral Presentation. 2019.
---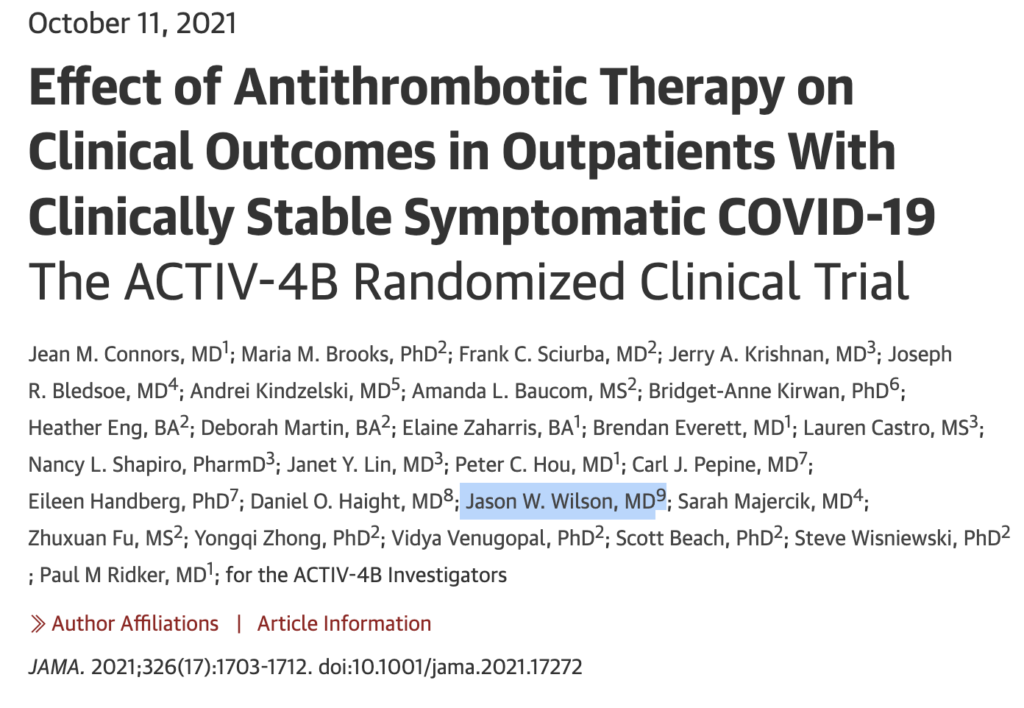 SaveSave
Operational Links